About

Factory One

.
Delivering real-time metrics & Industry 4.0 abilities to the manufacturing sector fast + affordably.

Unite your data and improve efficiency, throughput and much more, simply.

Factory One provides manufacturers with a single real-time data, AI + IoT solution populated with a suite of ready-to-deploy modules designed to achieve strategic business objectives, rapidly.
Created by world-leading Industry 4.0 specialists Rayven, Factory One is dedicated to giving manufacturers ready-to-use toolkits, complete with machine learning and business logic, that enables them to achieve the complex both fast and affordably.
Completely interoperable and capable of integrating with all existing and third-party technologies; our Factory One solution requires no new hardware and is ready-to-deploy
.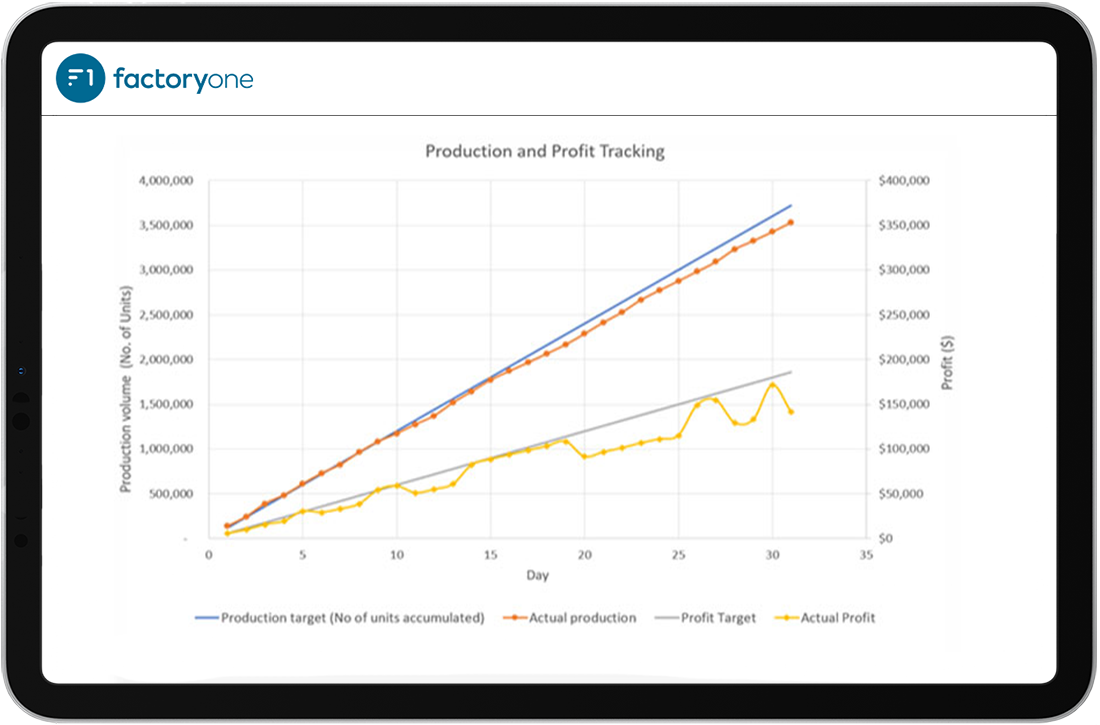 Get

real-time transparency

+

Industry 4.0 abilities

in 3 steps:
1: Connect your data
Effortlessly connect the Factory One solution's Dynamix platform to all your data sources to create a real-time view of your operations via dashboards + reports.
2: Select your module(s)
Choose which of the solution's ready-to-use modules, complete with pre-programmed business logic + machine learning, you need to meet your objectives.
3: Activate
Activate the modules to give your teams real-time metrics, anywhere. Leave the algorithms to uncover new optimizations, automate functions and scale, compounding benefits.
Ready-to-go modules
To tackle individual strategic goals rapidly, we offer a range of pre-built modules for key manufacturing business areas, (including OEE, Energy + Environment, Maintenance and much more), that contain all the functionality and pre-programmed machine learning and adaptive real-time analytics that you need to make a positive impact on critical metrics almost instantly.
Pick the ones you need now, add new ones further down the line, and never worry about integrating them with one another.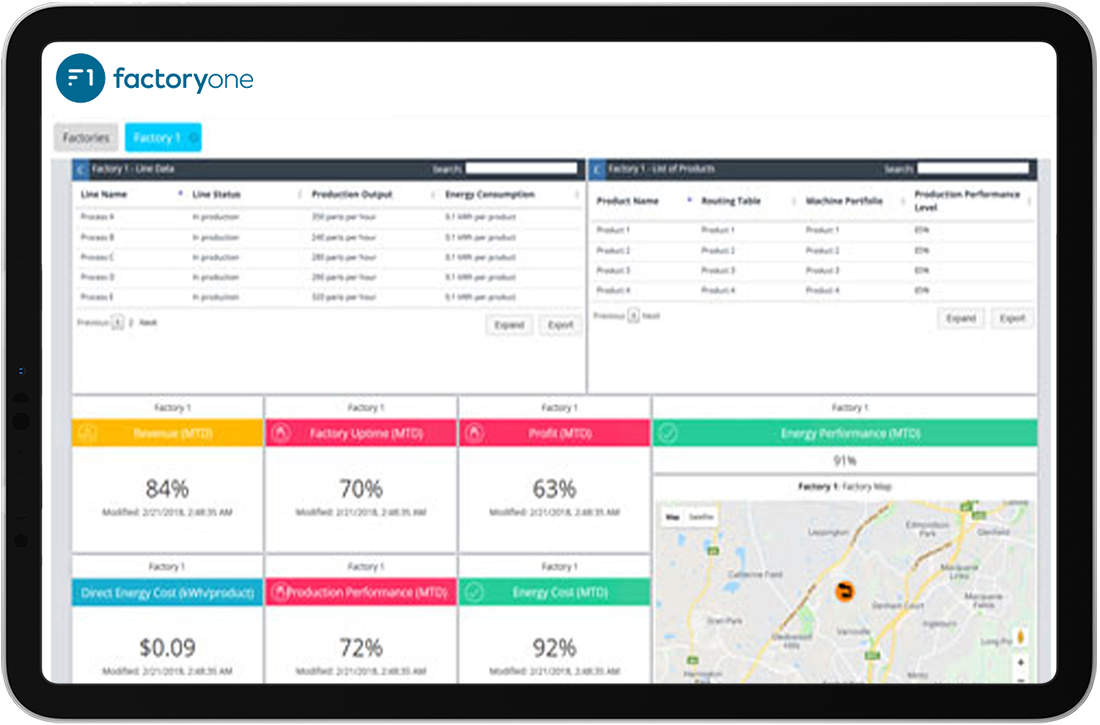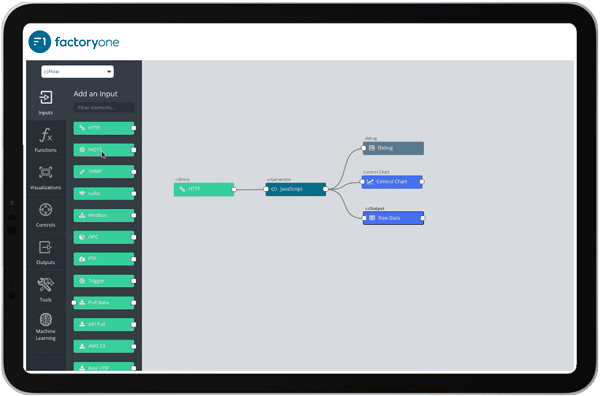 Built on a complete next generation Industry 4.0 data, AI + IoT platform
To make things even simpler for you, we work with a global network of best-in-class partners, offer data science and optimization services, and provide 24/7 support to ensure that you can deploy and succeed with transformative next generation Industry 4.0 technology.
Partner network = added value
To make things even simpler for you, we work with a global network of best-in-class partners, offer data science and optimization services, and provide 24/7 support to ensure that you can deploy and succeed with transformative next generation Industry 4.0 technology.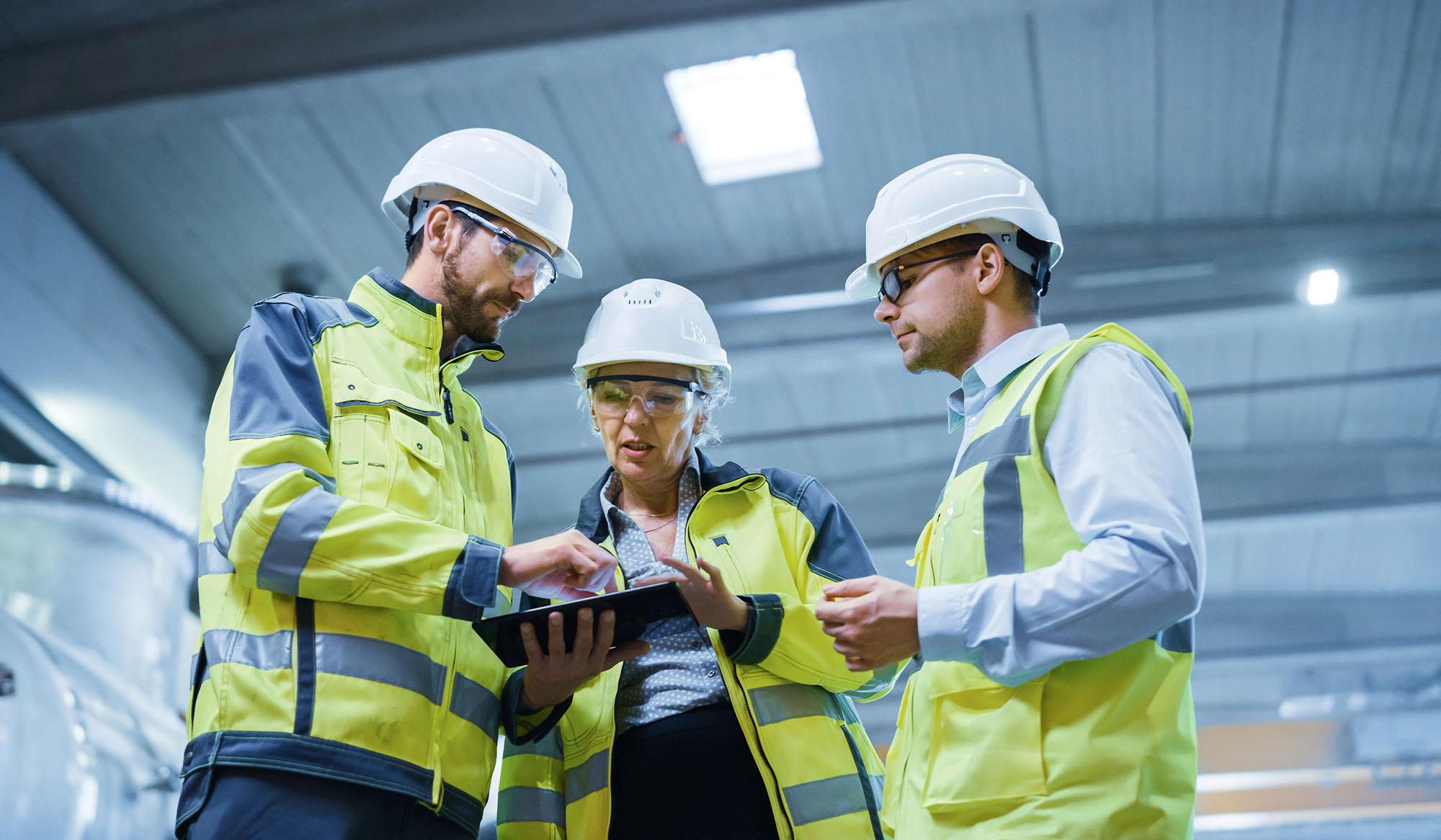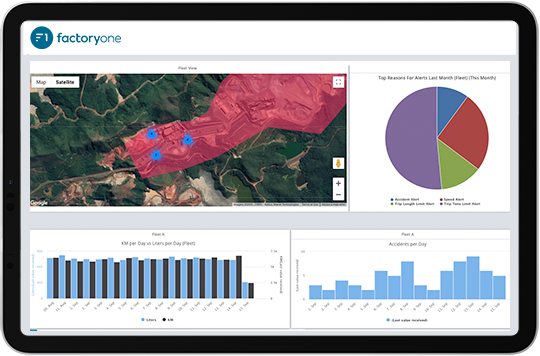 The Factory One difference
Our unique technology and industry experience enables us to be more affordable, deploy faster, and prove ROI. Our approach reduces risk and enables you to rapidly prove efficacy and scale your solution, compounding benefits and transforming operations one step at a time.

Easy-to-use (codeless) and commercially viable no matter your size; discover what Factory One can enable you to achieve in weeks: speak to us now.
Factory One:

Our Mission

.
Factory One exists to provide every manufacturing business with real-time, consolidated views of their data and the easy-to-use digital, automation and Industry 4.0 tools needed to achieve strategic objectives and transform operations rapidly and without disruption.
We do this by providing manufacturers with a completely interoperable, end-to-end data, AI + IoT solution that's populated with pre-built modules that can be leveraged to achieve multiple business objectives at a price that all can afford, no matter their size or deployment.
Our Dynamix platform unites all your data streams, including ERP data and existing technologies, creating a real-time single source of truth upon which pre-populated machine learning, automations and custom logic can be customized.
We de-risk and make digital transformation both affordable and attainable, offer a range of data science and optimization services, and work with best-in-class partners around the world to drive measurable outcomes, fast. The manufacturing sector is under great pressure to transform.
Factories consume 50% of the world's energy, 25% of its water, and produce 75% of all solid waste. Achieving mandated environmental targets would be challenging enough, but it's not even half the story.
Rising costs are squeezing margins, global supply chains are stuttering, and added competition from rising economies are driving the need for real, tangible change.
To do this, we believe that we need to create a world in which every factory has access to Industry 4.0 technology; where those in the boardroom and on the factory floor can identify new optimizations using accurate, consolidated real-time data and easy-to-use predictive analytics, as well as be given the abilities to seize them before they're lost by directing human intervention and AI-led automations - all in a single solution.
Factory One is democratizing Industry 4.0 technology for the whole manufacturing sector. It's ready-to-deploy and affordable-for-all, allowing all factories to be more efficient, productive and achieve world-leading environmental standards, effortlessly.
Factory One is a wholly-owned subsidiary of Rayven IoT, one of the world's leading data, AI + IoT platforms and data science organizations focused entirely on providing industrial and commercial solutions.
Rayven's unique drag-and-drop interfaces allows us (and our partners) to create and deploy purpose-built Industry 4.0 solutions both rapidly and affordably, offering the unique ability to combine IoT data (real-time, physical-world data), system data, and machine learning models to provide a real-time consolidated view of what's happening - and what's about to happen - on the factory floor and beyond.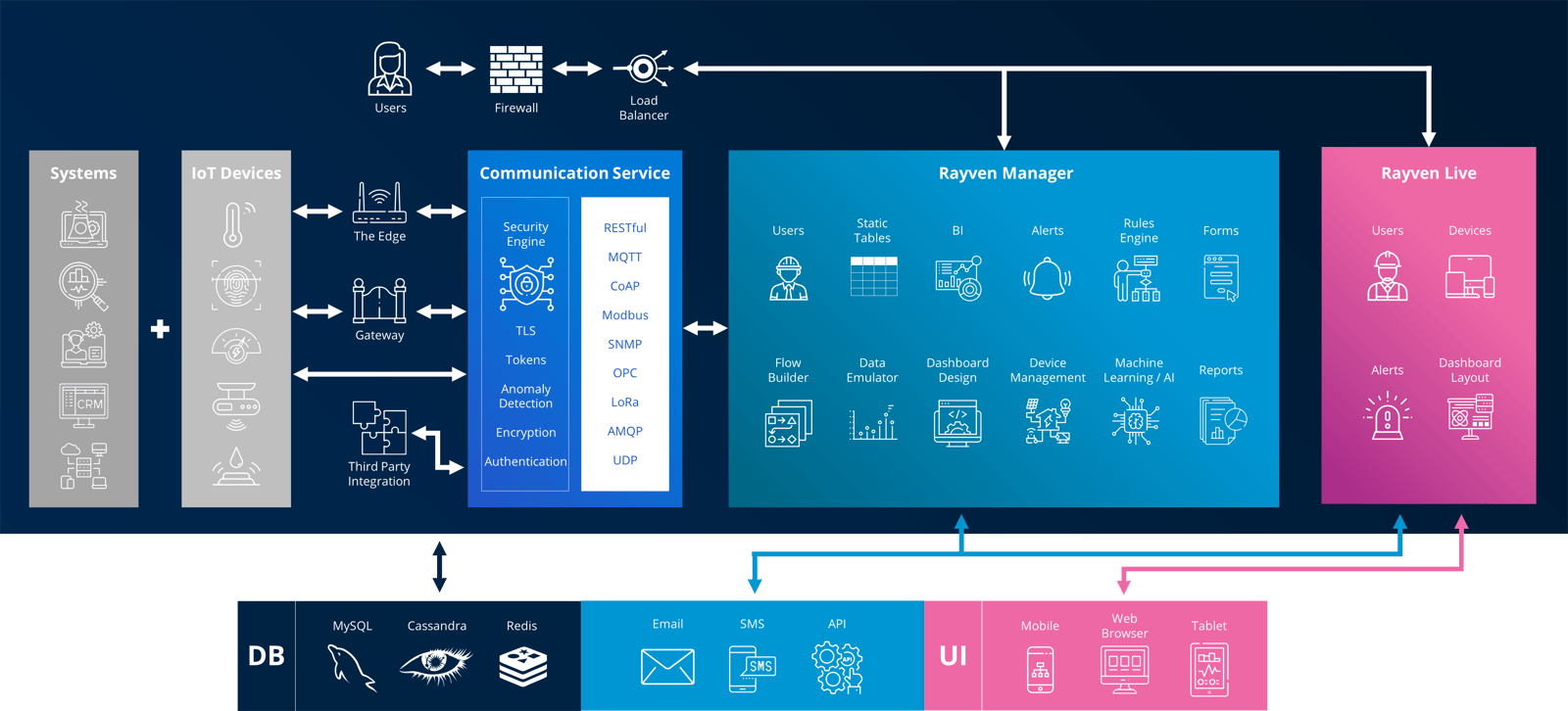 Rayven enables industrial companies to benefit from real-time data and predictive insights so that they can achieve meaningful business outcomes via a unique approach that always begins at the end; with a lazer focus on the business outcomes being sought, not the technology.
Discover more about Rayven, the platform and data science services, as well as the story behind the platform on the Rayven website.



100% Interoperable: no new hardware

Complete Industry 4.0 toolkit

Enterprise security
as-standard

Future-proof, SaaS-based technology


Solving industry-wide problems with best-in-class partners.
No Industry 4.0 business can do everything because, if they could, they would not be the best at anything.
With so many moving parts involved in a complete deployment, from machinery and hardware through to networking and IT infrastructure, we collaborate with best-in-class technology partners across the world to help solve the manufacturing sector's problems together.
Through coupling our end-to-end data, AI + IoT Dynamix platform and data science capabilities with leading hardware, telco and other technologies; we can offer complete Industry 4.0 transformation anywhere in the world and at a pace that suits your business.


















Improve your factory's key metrics, bottom line, and digitally transform all-at-once.