Food Production Efficiency


Case Study

Increasing food production efficiency by increasing up-time and reducing waste and giveaway.
Bills of materials include an allowance for waste, often in the order of 5-10%, though in practice there are often overages above what is specified in the BOM. Because of that, manufacturers are continually looking for opportunities to reduce waste and giveaway so that they can improve profitability and sales.
The CEO of a cheese repackaging company was after a fast and affordable AI + IoT solution to enable him to see key performance metrics across multiple facilities in real-time.
His greatest concerns were an increase in waste and his factories' inability to reach their daily target of 20,000 units per facility.
Real-time monitoring and algorithms to reduce production line waste and giveaway.
We focused on creating a solution that could find the answers to those questions quickly, while providing a long-term path for performance measurement - our philosophy is always start small, show a clear ROI fast, and then grow your solution over time when you're ready.
Defining what data to collect is critical
We started by identifying the key metrics necessary to achieve the desired business outcomes. In this solution these included:

Production targets

Machine status

Downtime duration

Downtime reasons

Unit weights

Target weights

Production rate

Production schedule
Initial goals of the solution
The first goal of the project was to connect to an Ishida checkweigher using a RS232-WiFi module installed in a cold / wet environment and a 4G gateway outside the cold area, which would then send the data in real-time to the Dynamix platform.
Through this set-up, we could collect the right data in a consistent and reliable manner, whilst ensuring data quality and integrity, and provide the following features:
Monitoring of critical operational data received from the equipment via a web-based and mobile system

Ensuring that device management monitoring for the Ishida check-weigher sensors was set in place

Defining business logic to the application in-order to meet the CEO's business objectives

Providing notifications via email or SMS when there was downtime, or throughput was below the hourly target

Collecting of historical data to enable the ability to test different logic to diagnose reasons for downtime

Providing real-time throughput and waste metrics on the mobile phone for senior management and line managers

Connecting the ERP system, to collect daily target, and package weight and sizes

Testing of the application, making sure all of the above goals are met, based on the below solution architecture.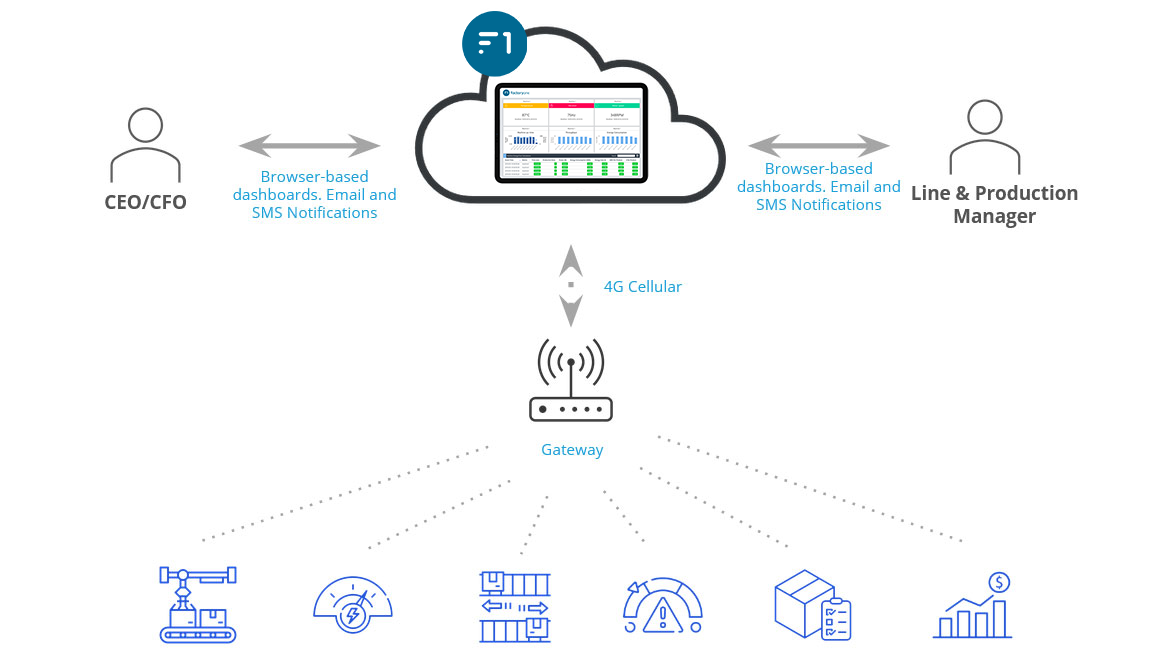 Before setting the solution live, we tested four critical aspects of the solution:
1) Security
The solution is built with security as a top priority and our proprietary security architecture ensures that data is secure at all points of the environment.
The solution includes data encryption in transit from device-to-cloud, as well as device authentication; security (Bearer) tokens; SSL, AES and RSA encryption; as well as additional device security checks done via automated polling.
2) Data integrity
Your production line waste and giveaway solution is only as good and reliable as the data you collect. Ensuring continuous connectivity means your data is always up-to-date and that you can rely on it to make critical business decisions in real-time, so it was critical to test the data we were seeing on the factory floor matched 100% to what we was being seen in the dashboards and build in capability to back-fill data in sequence in the event that communication went down.
3) Connectivity
Once securely connected, an Ethernet cable connection from the cold room to a 4G Gateway proved to be the best solution. It required a small level of investment with cabling and gateway connection setup, and then ongoing minimal costs to maintain the connection in the form of a monthly 4G data sim fee. The combination of a secure and encrypted transmission path together with a dedicated, direct connection (that eliminates connecting into the factories network) meant a fast and secure connection with out needing to involve IT.
4) Industrial data science
The objective of exploratory data analysis was to observe trends in the data and compare them with what was happening on the factory floor, which included:
Calculating throughput, IE packs of cheese per minute, hour, day and week

Real-time forecasting using a pitch chart of daily packs of cheese based on real time production throughput

Amount of cheese kg waste per minute, hour, day and week

Cost of cheese kg waste per minute, hour, day and week

Amount of cheese kg give away per minute, hour, day and week

Check weigher weight bell curve
What's next?
After providing evidence of the amount of giveaway in dollar terms, which amounted to millions across all facilities over 12 month, and providing insights on how to reduce the give away, we are now focusing on the next saving opportunity, which is around reducing energy consumption and improving OEE.
Key features of our Food Production Efficiency solution:
Real-time throughput - Observe actual production vs. targets and see where problems occur in real-time, enabling you to fix them before they severely impact productivity.
Real-time waste and giveaway - When you operate on slim margins, waste and giveaway can have a great impact on profit, so it's important to detect problems and act quickly.
Energy efficiency - Electricity costs can represent a large proportion of your overhead. Turn energy into a direct cost to direct focused cost reductions.
Reasons for downtime - Monitor the reasons for downtime. This can be done both automatically by the system or manually by the operator. See your top reasons for downtime in a Pareto chart and start taking action.
Alerts and notifications - Create custom alerts and notifications logic, based on any parameter, threshold or logic. Send alerts to the right user group at the right time.
Automated reporting - Automate your data collection (whether it is from sensors, PLCs, or human data entry) and store it all in one location.
Real business outcomes driven by our Food Production Efficiency solution:
Greater predictability - A better understanding of downtime and rate losses will give you greater predictability and confidence that you're able to meet your production targets.
Less wastage - Understand what causes rejects and solve the root cause to increase yield.
Less giveaway - Maintain tighter process control so you give away less product – improving your yield and your sales.
Increased throughput - Optimized output rates, controlled unit weights, reduced downtime and less scrap all equal increased throughput.
Increased margins - Maximize production uptime, material conversion and minimize waste all means more profit for your business.
Less downtime - Assets need to sweat, you can ensure your production lines are up when they need to be by understanding and acting on the root causes of equipment downtime.
Get started with your own transformation today, fast and affordably.
Factory One's easy-to-use solution, complete with ready-to-deploy modules that can improve every aspect of your manufacturing operations, will give you all the abilities you need, plus much more, in weeks with no hidden-costs.
Speak to us today to get started.
Discover our ready-to-deploy modules


that

deliver instant results, affordably

.