Manufacturing OEE in Food & Beverage


Case Study

Improving manufacturing OEE in the food & beverage sector using Factory One.
Measuring OEE accurately, consistently and at any given moment can be incredibly difficult for manufacturers.
What's more, getting entire teams to embrace new methodologies and tools is not easy, so it needs simple and friendly interfaces and careful planning to drive change on the factory floor.
Overall Equipment Effectiveness (OEE) measures the six big causes of lost production, providing organizations with an overall measure of asset utilization. The problem is, measuring OEE accurately, consistently and at any given moment can be incredibly difficult for manufacturers.
Understand your OEE in real-time with Dynamix.
That's why Factory One was chosen by this client's continuous improvement team to implement an OEE solution, Performance Monitoring + OEE, to monitor their OEE in real-time, providing a custom view for the causes of loss and web tools for the people on the factory floor to enter the reasons for downtime. This would enable them to establish an accurate OEE baseline calculation, and then identify and implement both reactive and proactive enhancements, fast.
Defining what data to collect is critical
In order to create a solution that can provide the insights needed to increase OEE, we started by identifying the key metrics required to measure them. In this solution it included:

Hourly and daily targets

Machine status

Shift schedules

Real-time throughput

Downtime reasons

Production schedule
Initial goals of the solution
The first goal in configuring the solution was to focus on connecting the Dynamix platform to a range of data sources on the factory floor. This included installing proximity sensors and PLCs to track movements of product along the production line without interfering with the proprietary controllers, and ERP to have visibility around shifts schedules and production targets. All of this data was to be collected in real-time and sent to the Rayven cloud where it would be compared with the data from the factory floor to ensure data quality and integrity. This would deliver the following solution features:
Monitoring of critical operational data received from the equipment via a web-based and mobile system

Device management monitoring of PLCs and Gateways that are in place

Ability to define business logic to reach the organization's OEE rules

Provide alarm and alert notifications via email or SMS messages when there was downtime, or when OEE below target

Deliver real-time OEE metrics on iPads on the factory floor as well as the capability to input downtime reasons

Connection with the ERP system to collect daily targets and shift schedules

Test the application, making sure all of the above goals are met, based on the below solution architecture.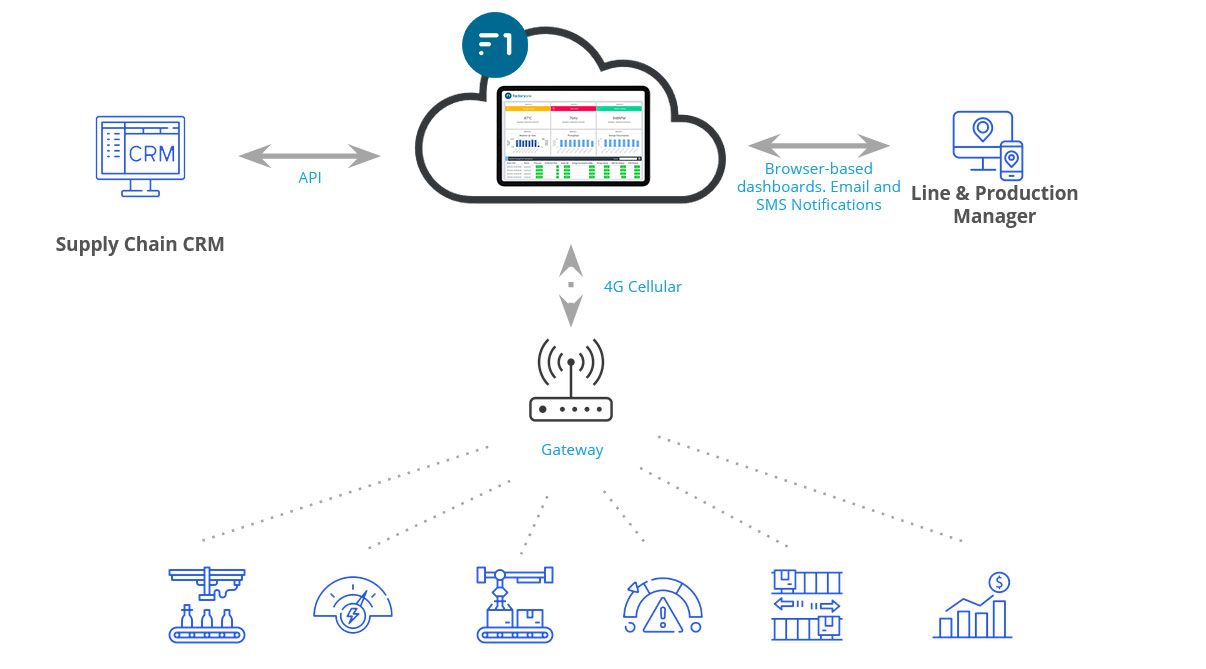 Before setting the solution live, we tested four critical aspects of the solution:
1) Security
The Dynamix platform is built with security as a top priority and our proprietary security architecture ensures that data is secure at all points of the environment.
The solution includes data encryption in transit from device-to-cloud, as well as device authentication; security (Bearer) tokens; SSL, AES and RSA encryption; as well as additional device security checks done via automated polling.
2) Connectivity
Once the proximity sensors were installed and connected to PLCs, a Wi-Fi connection to a 4G Gateway proved to be the best solution. The combination of a secure and encrypted transmission path together with a dedicated, direct connection (that eliminates connecting into the factory's network) meant that a fast and secure connection could be established without the need to involve IT.
3) Data integrity
Once connectivity was established and data started flowing consistently to the Rayven cloud, the next important process was to validate that the data from the factory floor matched the data being processed on the Dynamix platform. In addition, all of the business logic and calculations were tested to ensure that decisions would be made based on reliable, accurate information.
4) Industrial data science
The objective of exploratory data analysis was to observe trends in the data and compare them with what was happening on the factory floor, which included:
Real-time OEE by shift, day, line, and product

Dual and target shift production displayed as pitch charts

Cost of downtime

Shift efficiency, based on targets and shift comparison

Reasons for downtime trends, by shift, day, line, and product.
What's next?
After providing initial insights, optimization alterations were made accordingly and the factory is now in the planning phase to expand the solution to additional lines and into three other facilities, with the goal of providing a cross-facility view for senior management.
Key features of our Manufacturing OEE in Food & Beverage solution:
Real-time throughput - Display actual output in continuous real-time displays on the shop floor or head office. Compare actual vs. planned with real-time pie charts.
Real-time OEE - Monitor OEE continuously in real-time from any location. Identify problems early and act while production is still running.
Reasons for downtime - Record every downtime event automatically and record additional operator inputs on an HMI or iPad. Assess problems in real-time or analyze by shift, line, day product etc. as part of your continuous improvement program.
Operator feedback - Operators can see where production stands vs. targets in real-time charts and color-coded numerical displays.
Alerts and notifications - Receive immediate alerts by Andon, SMS, or email when production or OEE falls below threshold.
Production schedule - Use the built-in schedule tool to identify when shifts start and end, when planned maintenance or breaks are scheduled.
Real business outcomes driven by our Manufacturing OEE in Food & Beverage solution:
Reduced downtime - Any unplanned stoppages reduce your output or force you to work overtime. Understand the causes of downtime and drive uptime improvements.
Increased yields - Understand the causes of yield losses and rework so that you can drive the continuous improvement of your production lines.
Better energy efficiency - Change energy from an overhead to a direct cost by comparing real-time energy consumption with output. Learn how stoppages, changeovers and breaks all drive energy waste.
Improved quality - Quality defects can be isolated by location on a line, providing you with information vital to quality improvement actions.
Increased ROA - OEE helps you to drive uptime and throughput on each and every line, helping you to maximize your ROA.
Better staff engagement - By placing data in the hands of your staff and engaging them in the collection of it via easy-to-use tools, you'll improve engagement in continuous improvement and drive better outcomes.
Get started with your own transformation today, fast and affordably.
Factory One's easy-to-use solution, complete with ready-to-deploy modules that can improve every aspect of your manufacturing operations, will give you all the abilities you need, plus much more, in weeks with no hidden-costs.
Speak to us today to get started.
Discover our ready-to-deploy modules


that

deliver instant results, affordably

.